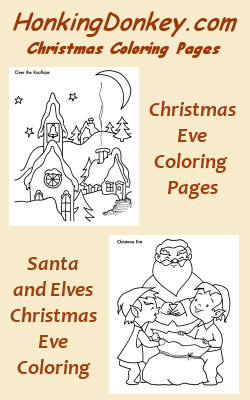 Christmas Eve Coloring Pages
Our printable kids Christmas Eve coloring pages are a great way to keep those little hands and minds busy over the holiday! Print several of our Christmas Eve coloring pages for those times when you need give them something fun to do, or just need an little peace and quiet ! Christmas Eve is a special time for Kids as they anticipate the annual Santa visit, and hope the can catch sight of Santa ! Our Christmas Eve Coloring pages depict all the favorite Christmas Eve scenes to color and imagine!

Printable Christmas Eve Coloring Sheets are free and easy to use, just get a crayon or colored pencil and have fun !

Print several of our Christmas Eve coloring pages to talk about all the wonderful things that kids can see and do on Christmas Eve! Our Christmas Eve are a great teaching aid to teach kids the history and significance of Christmas Eve !
The box to the left is a Pinterest Pin-It Now Box ! Click and .....Pin it NOW !!!