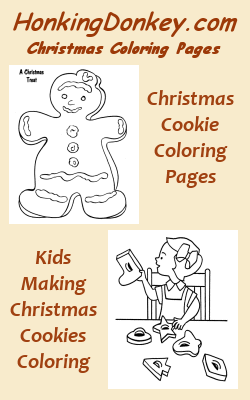 Printable Christmas Cookies
Coloring Pages
Christmas Cookies are a favorite activity for kids during Christmas! Christmas Cookie Coloring Pages are a great alternative if you don't have all the ingredents to bake cookies. Print out several of our Christmas Cookies coloring pages and put those little hands and minds to work! Its a whole lot "less messy" ! Use our Christmas Cookie coloring pages to talk to your kids about the kind of cookies and shapes you plant to make for your own Christmas Cookies. Let the kids color their cookies with the decorations that they plan to make!

Christmas Cookies are fun to make and color, ....and they taste good too (the cookies, not the crayons)! .
The box to the left is a Pinterest Pin-It Now Box ! Click and .....Pin it NOW !!!