Arbor Coloring Pages
Welcome to our Arbor Day coloring pages. The goals of Arbor Day is to encourage environmental awareness by advocating the planting of trees. Arbor Day was founded in 1872 by J. Sterling Morton in Nebraska City, Nebraska. By the 1920s, each state in the United States had passed public laws that stipulated a certain day to be Arbor Day or Arbor and Bird Day observance. The US national holiday is celebrated every year on the last Friday in April. The customary observance is to plant a tree.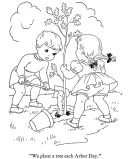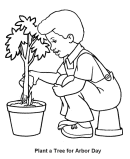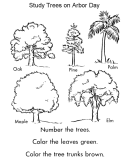 Arbor Day Coloring Pages
Arbor Day is a holiday in which individuals and groups are encouraged to plant and care for trees. It originated in Nebraska City, Nebraska, United States during 1872 by J. Sterling Morton. The first Arbor Day was held on April 10, 1872, and an estimated 1 million trees were planted that day. Arbor Day coloring activity pages are a fun way to teach about the significance of Arbor Day.
---
---